Iron Powder Cores
Iron Powder Cores is a magnetic core which use traditional production arts, after the pure powder which content of Fe is more than 99% surface insulation coating and then mixed pressed with organic binder. Because it hasn't been conducted in the high temperature, so it's used temperature is -65C~+125C. Products including permeability 10ui-100ui, toroid, E type, U type, R type and so on.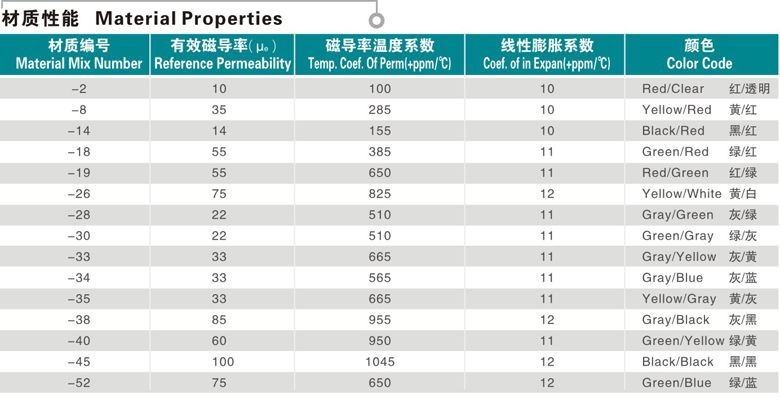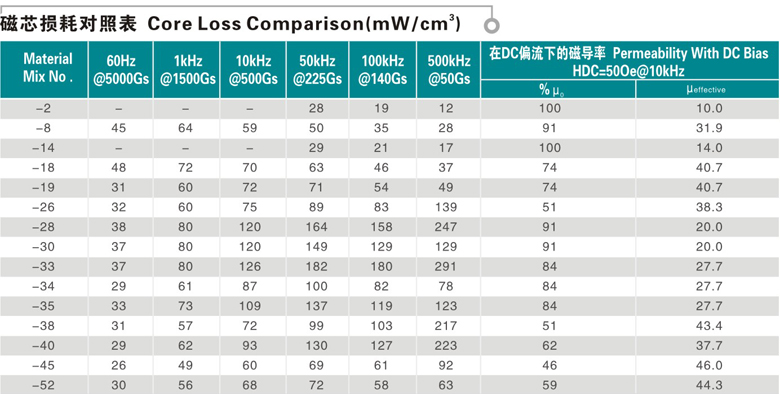 Common working temperature for iron powder core is between -65℃-+125℃.When the working environment rises above 150℃,the organic adhesive(usually epoxy resin) will begin to decompose,resulting in the degradation of the device's performance and shortening of the devices's life.The severity of the degrading depends on the time,temperature,size of the magnetic powder core,working frequency and the flux density.


Matorial
(Mix No.)
Al Tolerance


±5%

±10%

±10%

±10%

±10%

±10%

±10%

±10%

±10%

±10%

±10%

±10%

±10%

±10%

±10%
The cores are manufactured to the Al values listed;the permeability for each material is for reference only.In all cases,the Al values are based on peak AC flux density of 10 gauss(1 mT)at a frequency of 10 kHz.The toroidal cores are tested with an evenly-spaced full single-layer winding in order to minimize leakage effects.Iron powder cores tested with a small number of turns which are not evenly distributed will produce higher inductance readings than expected.The E Cores are tested with 100 turns.The Magnetic Characteristic curves shown have a typical tolerance of ±10%.The curves on Core Loss characteristics have a typical tolerance of ±15%.


The toroidal and bus bar cores listed in this catalog are coated.All finishes have a minimum dielectric strength of 600 Vrms at 50Hz and resist most cleaning solvents.Extended exposures to certain solvents may have detrimental effects.The toroidal cores can be double or triple coated for greater dielectric strength.The E Cores and the U cores are treated to resist corrosion.