Alloy Powder Cores are soft ferromagnetic cores made from ferrous alloy powders, after surface insulation coating, mixed pressed with in-organic binder then annealing in high temperature. On the basis of different composition of the alloy powders, it mainly can be divided to 5 kinds, including Sendust Cores, Si-Fe Cores, Neu Flux Cores, High Flux Cores and MPP Cores.
General information



It means apparent indectance value in mH per 1000 turns,The tolerance of apparent inductance for our standard cores is ±8%.The Magnetic Characteristic curves shown have a typical tolerance of ±10%,The curves on Core Loss characteristics have typical tolerance of ±15%。


1000
500
300
100
50
25

+0.0%
+0.5%
+1.0%
+3.0%
+5.0%
+8.5%

KDM Magnetic Powder Cores Series are coated by improved epoxy that can resist high temperature up to grade,The coating also complies with the requirement of environmental protection and RoHS.The finishing has a minimum dielectric strength of 600Vrms at 50Hz and can resist most cleaning solvents.However,extended exposures to certain solvents may have detrimental effects.


The method of testing the insulation strength of the surfacing coating:put two electroplates on tne corners of the cores'two surfaces,app;ies 50Hz,1250Vrms and last for 5 seconds.

KDM has designed standard packaging for shipment to customers around the world.We recommend the cores remain in the original factory packaging and be sheltered from rain or high humidity since uncoated iron can eventually form surface tust.Magnetic powder cores tend to be heavier than many other products and special conside ration must be given to the weight of the carton.Do not stack more than 5 cartons high to avoid crushing the bottom cartons.Our normal packing box's weight is form 15 to 20kg.Please be aware the cores are quite dense and package size can be deceivingly heavy.Damage will occur to cores if they are dropped on a hard surface then a crack or chip can result on tne core coating.Special consideeration for electrostatic discharge is not necessary with magnetic powder cores since they have a 'distributed air gap structure' and will not retain an electrostatic charge.Finally,as with most magnetic material.magnetic powder cores need to be kept free of metal shacings,oil,solvents,dirt,dust and acides.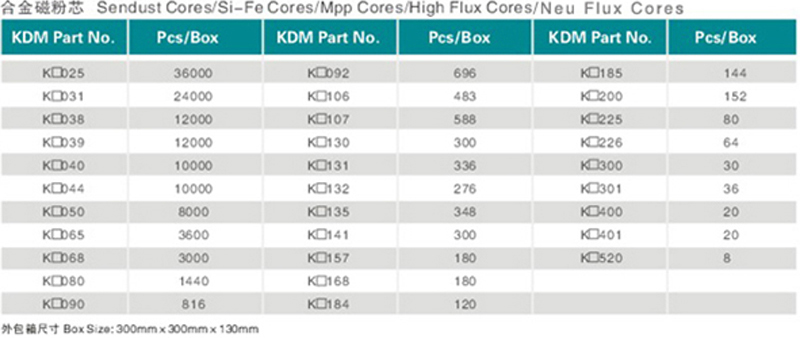 Core Loss(mW/cm3)
@1000Gs/50kHz

DC-Bias(%µe)@
1000

Si-FeTM

*Amorphous
Powder Cores

Neu FluxTM
All test are based on 60µ material.
* For reference only,not in KDM product.